If you do not see the Newsletter correctly: <Click Here> - Per la Versione in Italiano: <Clicca Qui>

Newsletter Proel TSI - December 2017 - N° 17


SPECIAL OFFER "40x40" LAST DAYS
UNTIL DECEMBER 14th









Contact our sales team at email address

sales@proeltsi.com

, ( or phone +39.0432.815047

) mentioning the code

«PROMO40x40»





NEW VERSION - 9.7.01 - NEW VERSION

Online Proel TSI SUITE new version

(Millennium III and FocusCut III softwares)
WITH:



Files Import:

added Husqvarna Viking (.shv)

Thumbnails in Print:

displays embroidery parts for a single operation. If Laser Function is present, they show the alternation between embroidery phases and cutting phases

Archive 2.0 and Browser:

new File Explorer panel management, in particular, the management of the Network node has been fixed (addition also the possibility of the network adapter choice)





If you already have a

Proel TSI Account

enabled for download, you can download new

Proel TSI SUITE

version with latest versions (9.7.01) of

Millennium III

(software for embroidery creation)

and

FocusCut III

(software for laser machines)

.


Proel TSI

SUITE

SETUP

allows you to choose the

MIllennium III

installation, the

FocusCut III

installation or both.



Click here

to go directly to your

Proel TSI Account

and download the latest versions of

Millennium III

and

FocusCut III

.

Don't you have a

Proel TSI Account

?



Click here

to create a new

Proel TSI

Account

. Then you will get 3 free registrations and contacting the technical support, at

support@proeltsi.com, you can enable the download of the latest versions of

FocusCut III

and

Millennium III

.



For any enquire about software versions download, please contact

Proel TSI support department at the e-mail address

support@proeltsi.com or by phone at +39.0432.815047





On-line the new videos about Proel TSI Laser Machines.


On our company

YouTube

channel

we have uploaded several

videos about our laser machines.

Here is the list of new Video:


Cometa - Laser Plotter Machine


E-Laser 1200 - Embroidery Laser Machine


LaserBridge Mark V

Z-Galva



BEST WISHES ! BEST WISHES ! BEST WISHES !


The Proel TSI would like to wish you a

Merry CHRISTMAS and an HAPPY New Year


We inform you that our offices will remain closed for

Christmas Holidays


from December 23rd 2017 to January 7th 2018.



Laser Cutting Machine - Laser Engraving Machinery - Embroidery Software - Embroidery Machines - Laser Plotter - Laser Bridge - Badges Cutting - Embroidery Laser
Laser Lettering - Applique Cutting - Galvanometric Laser - Textile Laser - CAD CAM Machinery - CO2 Laser Machines - Embroidery Applique Cutting - Embroidery Punching
Fabric Laser Cutting - Fabric Laser Marking - Jeans Engraving - Laser Alphabets - Laser for Embroidery Machines - Leather Cutting - Leather Engraving
Software for Embroidery Machines - Software for Laser Cutting - Stencil Marking - Wood Laser Cutting - Wood Laser Engraving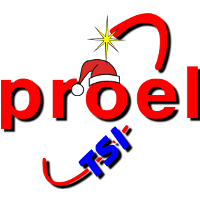 Embroidery Software and Laser Solutions
Proel TSI srl - via Lino Zanussi, 20 - 33033 Codroipo - Udine - ITALY
Tel + 39 0432 815047 - Fax + 39 0432 905710
info@proeltsi.com - www.proeltsi.com - www.proelembroiderysoftware.com

follow us:






If you want to unsubscrive the Proel TSI newsletter, send an email to a
newsletter@proeltsi.com specifying in object DELETE NEWS.