THE MILLENNIUM III TRIAL VERSION D O W N L O A D
Go to page for Download a Millennium III embroidery software trial version
After the installation Millennium III requires an activation file that you can require to Proel Activation Service
__N E W___V E R S I O N__ MILLENNIUM III NOW DOWNLOAD YOUR FREE LICENSE DIRECTLY FROM THE CLOUD
Watch the tutorial
M I L L E N N I U M I I I
NEW TUTORIALS ARE AVAILABLE
Initial Settings - Shape Creation - Shapes Editing -
Running Stitch - Column - True Type Lettering and others

EMBROIDERY SOFTWARE YOUTUBE CHANNEL
40th Anniversary – 40% discount on Proel TSI products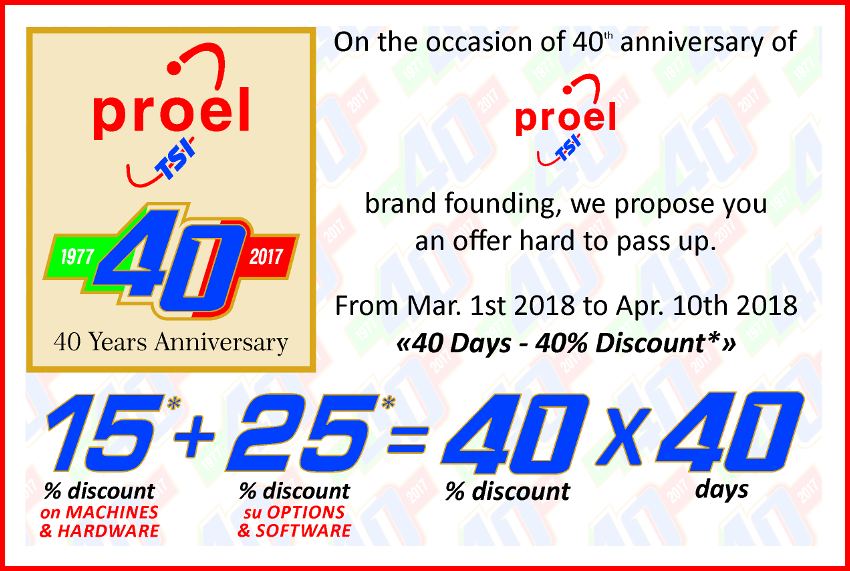 PROEL TSI is pleased to present you a special discount opportunity, part of 40th Anniversary of Proel brand foundation celebrating campaign. Read more...
ISS Long Beach 2018
Thursday, 18 January 2018
BITO - Proel TSI agent for the U.S.A. - exhibit in LONG BEACH at the ISS 2018 January 19 to 21 2018, Booth Number 764. Read more...
Newsletter - December 2017
Tuesday, 12 December 2017
40th Anniversary
Thursday, 02 November 2017
Contact our sales team at email address This e-mail address is being protected from spambots. You need JavaScript enabled to view it mentioning the code "PROMO40x40"
Newsletter - September 2017
Monday, 25 September 2017